Meguiar's 6" Professional Soft Buff DA Foam Discs










Click to enlarge image(s)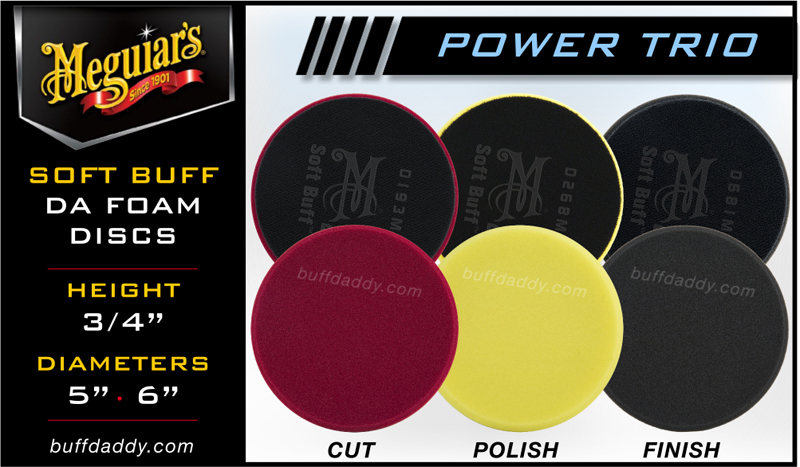 Hi-Tech. Low Profile. For Dual Action Machines.

Date line, 1965: "Meguiar's Introduces the Buffmaster Wooless Wonder!"

Meguiar's 6" Professional Soft Buff DA Foam Discs are the latest series of pad offered by the marvelous minds at Meguiar's. Three grades of foam ensure that just about any polishing task can be comfortably & efficiently accomplished. They can be used with a wide variety of buffing liquids (compounds, polishes, waxes), and are machine washable.



Meguiar's 6" Maroon DA Foam Cutting Discs.
Typical foam cutting pads can leave paint surfaces scoured with a layer of fine, hazy scratch marks. Not so with these beauties! Remarkably, Meguiar's 6" DA Foam Cutting Discs will rarely scour even the most delicate of paint finishes.



Meguiar's 5" Yellow DA Foam Polishing Discs.
It's no secret that Meguiar's Foam Polishing Pads have been an industry standard for decades. Compared to their maroon counterparts, Meguiar's 6" Yellow DA Foam Polishing Discs feature improved contourability. A great choice for general polishing tasks.



Meguiar's 6" Black DA Foam Finishing Discs.
Newly formulated foam is superior to all previous offerings (no small feat!). Fast becoming the go-to pad for high grade, critical polishing tasks. Non-marring, low-clog foam. The perfect choice for final polishing tasks, or for applying glazes, polishes, waxes, and sealants.



Add a Meguiar's 6" Velcro Backing Plate.
Maximize polishing potential by installing a durable, high-performance backing plate.
More info on the Meguiar's DBP6 here.



Need more cutting power?
Check out Meguiar's 6" DA Microfiber Cutting Discs here.



Looking for these pads in 5" diameter? Check them out here.

Looking for a rotary version of this pad?
Check out Meguiar's 7" Rotary Foam Pads here.