Rupes BigFoot Buffing Liquids








Click to enlarge image(s)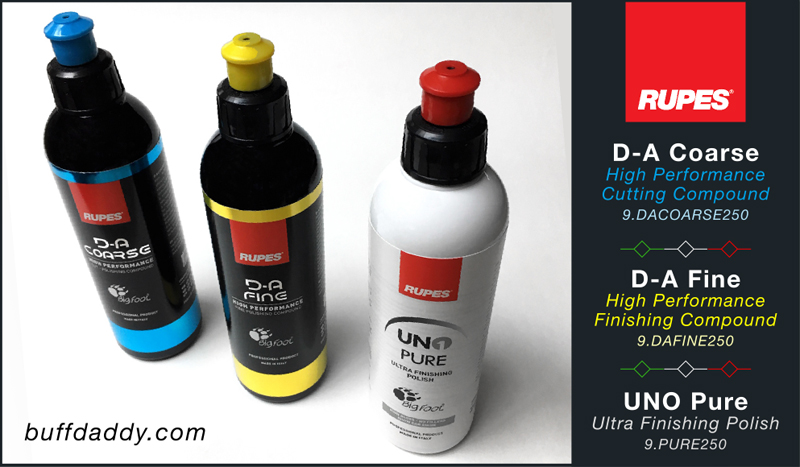 Rupes High Performance Buffing Liquids work well with microfiber, wool, and foam pads. All three formulas are free of heavy oils & fillers, making them compatible with cross-linking sealants, polymers, and coatings.
D-A Coarse Cutting Compound

is designed to deliver rapid defect removal, and is likely to be the fastest cutter (paint remover) of the three Rupes buffing liquids. State of the art technology and untold hours of testing enable D-A Coarse to oftentimes create a visually perfect, swirl-free finish.
D-A Fine Finishing Compound

is likely to become your go-to compound for the majority of polishing situations. D-A Fine has been designed, tested, and tweaked to deliver everything professionals and enthusiasts desire: rapid cut, with tremendous finishing capabilty. High-performance polishing!
UNO Pure Ultra Finishing Polish

is the world standard for the task of finessing away swirls, haziness, tick marks, and other imperfections that often occur while attempting to perfect finicky paint types.



Versatile!

Use with foam, wool, and microfiber pads. Apply via hand, rotary, and all dual action machines.
UNO Protect One-Step Polish and Sealant

leaves a super smooth & glossy layer of protection that lasts 2-3 months.



Versatile!

Use with foam, wool, and microfiber pads. Apply via hand, rotary, and all dual action machines.
UNO Advanced Stand Alone Protection & Maintenance Polish

is designed to correct, polish, and protect, but the protection lasts up to one year!

Safe for use on single stage & clear coat paints, gelcoats, powdercoat, and aluminum, and other hard surfaces.
Reveal Strong

Residue Remover dissolves stubborn contaminants such as tar & grease, waxes & polymers, durable fillers & adhesives.



Reveal Lite

Residue Remover

is designed to eliminate

polishing oils, silicones,

streaks, smudges, glazes, and vinyl & rubber dressings.
G401 High Viscosity Glass Cleaner

is thick compared to other glass cleaners. Complex alcohol formula is safe for use on tint and plastics.





P808 Protective Sealant

delivers durable standalone protection that

slickens surfaces, adds gloss, and enhances water beading. Diluteable!