Facom® Ergotwist 8-Piece Screwdriver Kit






Click to enlarge image(s)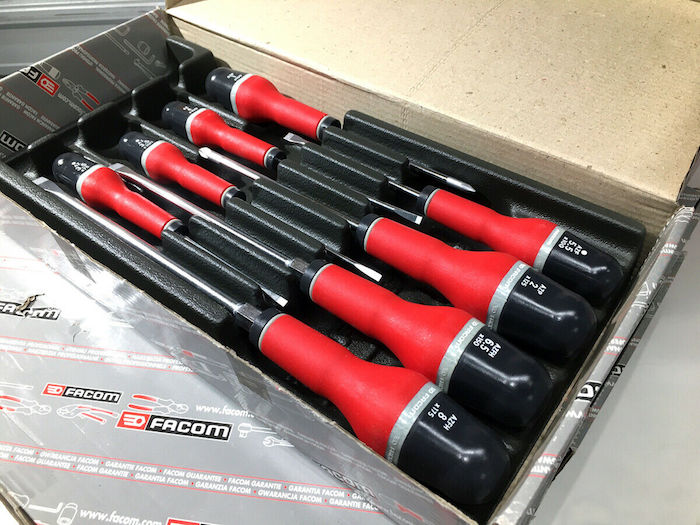 Facom Ergotwist 8 Piece Screwdriver Set.

Once you try Facom's

Ergotwist

Screwdrivers, you'll realize that typical screws aren't as poorly made as you might have been thinking.

With this set, you can handle most household or garage tasks requiring a screwdriver. French-made FACOM Screwdrivers can be found in some of the finest garages in the world. In terms of comfort and holding power, they rival my German made Wiha screwdrivers.

This particular style has been discontinued for several years. I've had (7) sets safely tucked away on a shelf, and were consequently forgotten. In terms of quality, these rank with the finest from Snap-On, Matco, and other high end tool brands.


The screwdrivers are in new condition. The cardboard boxes are intact and in decent shape: they are in the same condition as they were when I purchased them from a distributor many years ago. Overall, you will be impressed with these screwdrivers. A very nice set, indeed!

These screwdrivers feature high quality components.

Handles: Facom put a lot of thought into this design. The material, shape, and texture of the handle are purpose built. First and foremost, they have been ergonomically designed for increased comfort and usefulness. The material is very durable, and will not chip or crack if dropped. The top portion of the handle is smooth and rounded, making it easy to spin against your palm, or for those times when you need to supplement downward pressure with one hand while twisting with another. The lower portion of the handles are textured for better grip. One of the best handles available.

Shafts: The shaft is made using forged steel, so you know they're tough! They'll last a LONG time. The two large flat head screwdrivers feature hex bolsters for those times when the added leverage of a wrench is needed to loosen a stubborn screw, or tighten a screw beyond normal hand tightening.

Tips: The tips are sand blasted to increase screw-gripping power. The moment you use one of these screwdrivers, it is apparent that they well engineered, as the tips do not easily slip or twist out of the screw head.

Part number MOD.AZ1PB
The "MOD" stands for module, which designates this set as including a plastic storage unit. Facom sells all sorts of tools in modules, which keep tools organized, and makes them easy to organize in a tool chest. Modules also make it easy to identify when a tool is missing.


Specifications for all eight screwdrivers:

#1 Philips (AZP.1x100)
Length= shaft: 3-7/8" • overall: 8-1/8"

#2 Philips (AZP.2x125)
Length= shaft: 4-13/16" • overall: 9-1/2"

Flathead (AZ.3.5x75)
Blade= 0.6mm x 3.5mm Length= shaft: 2-7/8" • overall: 6-13/16"

Flathead (AZ.3.5x100)
Blade= 0.6mm x 3.5mm Length= shaft: 3-7/8" • overall: 7-7/8"

Flathead (AZ.4x100)
Blade= 0.8 x 4.0mm Length= shaft: 3-7/8" • overall: 7-7/8"

Flathead (AZ.5.5x100)
Blade= 1.0mm x 5.5mm Length= shaft: 3-7/8" • overall: 8-1/8"

Flathead (AZFH 6.5x150)
Blade= 1.2mm x 6.5mm Length= shaft: 5-13/16" • overall: 10-7/16"

Flathead (AZFH 8x150)
Blade= 1.2mm x 8.0mm Length= shaft: 6-13/16" • overall: 11-1/2"