Meguiar's 8" Rotary Wool Cutting Pad









Click to enlarge image(s)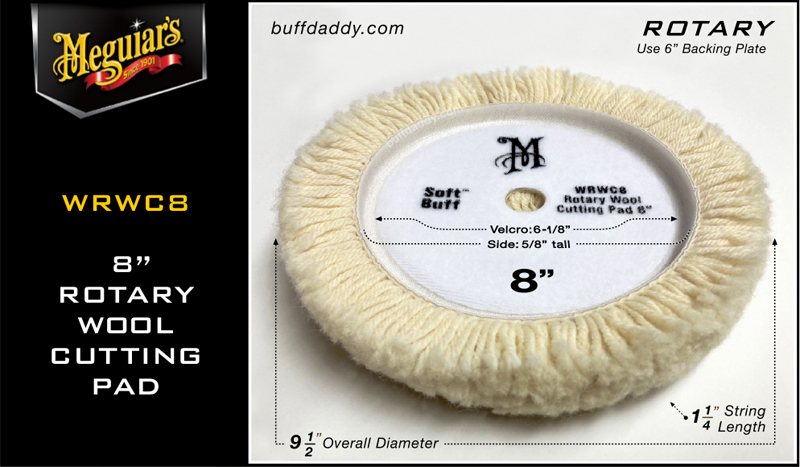 A Meguiar's mainstay (original part number W4000).

You'll see this pad in paint & body shops, detail shops, and weekend-warrior garages. It has a tremendous following.

The Meguiar's WRWC8 8" Rotary Wool Cutting Pad features a curved backing (the part of the pad to which the wool fibers are attached), so should you happen to run the pad's edge into a part of the vehicle that is not parallel to the polishing surface, the curved backing will not contact that surface. Drama avoided! This pad is super comfy when polishing curved surfaces, too.

The WRWC8 features Velcro attachment material, but can be used with old-school rubber backing plates with metal mounting nuts, as the pad has a hole cut into its center for mounting purposes. Designed for use with 6" diameter backing plates.



Add a Meguiar's 6" Velcro Backing Plate.
Maximize polishing potential by installing a durable, highy performance backing plate.
Choose between rigid or soft versions More info: Rigid 6" Plate | Soft 6" Plate

Add a Meguiar's 7" Foam Buffing Pad.
Three grades of foam ensure that just about any polishing task can be comfortably & efficiently accomplished. They can be used with a wide variety of buffing liquids, and are machine washable. More info: Rotary Foam Pads

All Meguiar's Rotary Wool Pads: 6" | 7" | 7.5" | 8"



Also available: Meguiar's 7" Foam Pads

Actual pad diameter: 9-1/2"


Actual backing diameter: 7"


Attachment material:
Velcro loop



Curved backing:
Great for polishing curved or complex shapes


Recommended backing plate:
Meguiar's WRBP or WRSBP