Meguiar's Gold Class 6" Shaft-Mount Buffing Pads





Click to enlarge image(s)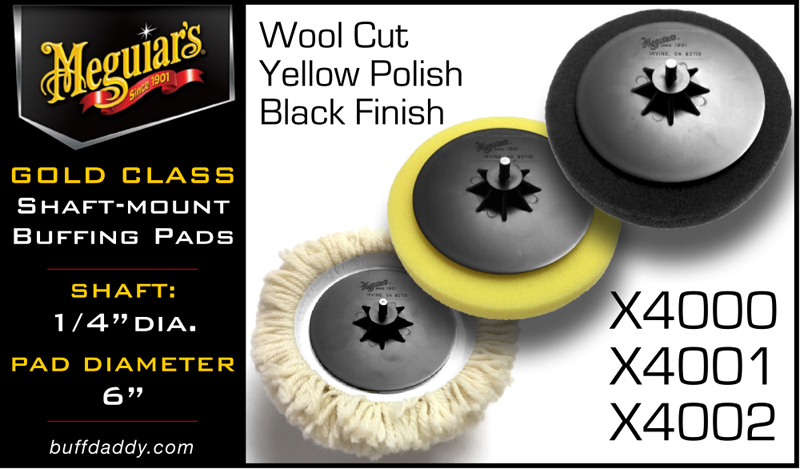 Meguiar's Gold Class 6" Shaft-Mount Buffing Pads
install into any chuck-style handheld drill that can accept 1/4" diameter shaft. The backing plate is glued onto each pad. This trio of pads can be used with a wide variety of buffing liquids (compounds, polishes, or waxes). These have been discontinued for many years. We have a stash of approximately two dozen of each pad, original packaging, in perfect condition!

Gold Class 6" Shaft-Mount Wool Cutting Pads
feature plush & long twisted wool fibers, that deliver an aggressive cutting action. These pads can be used to apply compounds or polishes to paint and gel coat, but can also be used to buff plastic, glass, aluminum, or stainless steel.

Gold Class Shaft-Mount 6" Yellow Foam Cleaning/Polishing Pads
are a great choice for general polishing tasks, and are capable of leaving a very nice finish.

Gold Class Shaft-Mount 6" Black Foam Finishing Pads
are the perfect choice for final polishing tasks, or for applying glazes, polishes, waxes, and sealants.