Mirka 3-1/2" Diameter Velcro Backing Plate



Click to enlarge image(s)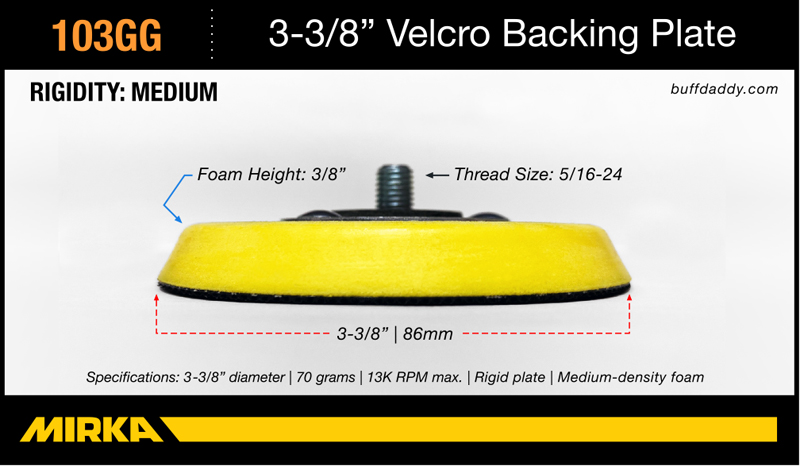 Micro-hook Velcro is compatible with all hook & loop systems.
The Mirka 103GG 3-1/2" Velcro Backing Plate measures in at an actual 3-3/8" diameter, making it the same exact diameter as the ever-popular DMC3 / DMF3 Meguiar's 3" DA Microfiber Discs. By delivering full support to the outer edge of the microfiber disc, cutting power can increase immensely. It can also help to create a more refined finish versus using the Meguiar's recommended S3BP backing plate. By fully supporting the microfiber, random rotation of the plate runs at maximum potential.


Mirka's backing plates are manufactured using a top quality molded polymer construction. This means that the rigid inner hub, yellow foam center, and Velcro face are molded together (not glued). Each plate is balanced to eliminate vibration, so you can work comfortably. The medium density polyurethane foam is somewhat firm, but will give a small degree due to its flared edge.

Mirka 103GG specifications: 3-3/8" diameter | 5/16-24 male thread



To view our entire backing plate lineup, visit the Backing Plate Main Page.


Actual diameter: 3-3/8"


Attachment material: hook


Max speed: 13,000 r.p.m.

Thread size: 5/16"-24 male


Height to mounting pad: 1/2"


Weight: 78g (2.75 oz.)