Rupes BigFoot NANO Multi-Function Polisher
















Click to enlarge image(s)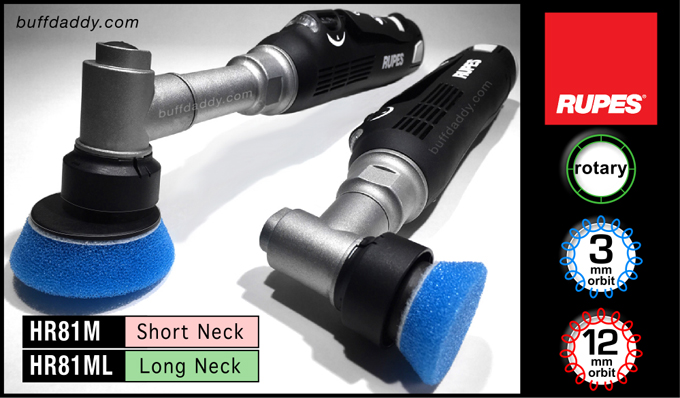 Rupes BigFoot Nano Polishers with iBrid Technology are lithium-ion powered, super compact, multi-function polishing machines. A mouthful, but Nano's are oh-so versatile! Rupes Nano Kits & Polishers are available in Short Neck (HR81M/BLX) and Long Neck (HR81ML/BLX) versions.

Tri-Motion Capability.
Rupes Nano Polishers utilize screw-in modules to generate rotary or random orbit action. Rotary Action | 3mm Random Orbital | 12mm Random Orbital

A Multitude of Attachments.
A trio of backing plates allow attachment of 1" and 2" buffing pads & sanding rosettes. Use the Nano to sand, compound, or polish within very specific or super-confined areas.

A pair of screw-on brushes transform the Nano into a deep-cleaning scrubbing machine! Use the Nano's tri-motion capability to shampoo cloth or carpeted surfaces... or to loosen grime from rubber, textured plastics, vinyl, & leather. The Nano can also be employed to massage in lotions & protectants.

Dual Mode Power Delivery.
Rupes Nano Polishers feature iBrid Technology, enabling them to recieve electrical current via a compact lithium-ion battery, or through a corded power supply.

Please click the accompanying images for in-depth information regarding all aspects pertaining to this machine.
A dedicated Nano section, that takes you directly to machines, pads, & parts.

Rupes iBrid Nano

Short

Neck &

Long

Neck Deluxe Kits include:

• (1) BigFoot Nano Polisher
• (2) Lithium-ion Batteries
• (1) Battery Charger
• (1) Corded Power Supply
• (3) Rotating Module Assemblies
• (3) Screw-on Backing Plates
• (2) Screw-on Scrub Brushes
• (1) Screw-on Rotary Extension
• (6) 1" Blue Foam Buffing Pads
• (4) 2" Blue Foam Buffing Pads
• (6) 1" Yellow Foam Buffing Pads
• (4) 2" Yellow Foam Buffing Pads
• (1) 20-Piece Sanding Rosettes
• (2) 100ml Buffing Gels
• (1) Systainer Box Plastic Carry Case
• (1) Multi-Use Wrench



Add a variety of Rupes Nano Foam & Wool Buffing Pads. (save 18%)
You'll be ready to tackle just about any polishing task if you've got a set of Rupes® Buffing Pads on hand. These pads have been specifically designed for use with the Nano machine.

Foam: 1" | 2" (5 versions) • Wool: 1" | 2" (2 versions)



Add spare 1" & 2" Nano Velcro Backing Plates. (save 18%)
Having a spare Velcro backing plate on hand is smart. These backing plates are direct replacements for the originals.

1" (995.001) | 2" (996.001) | Nano Parts


This machine carries a one-year parts and labor warranty.

Rupes USA offers the industry's fairest, fastest, & finest repair service! Check it out here.