Twist-Air InLine Air Regulator





Click to enlarge image(s)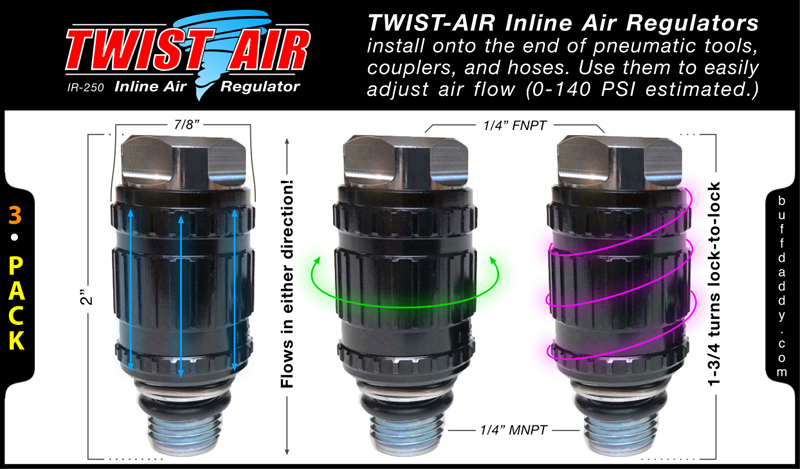 Twist-Air Inine Air Regulator.
Working with air tools? Install a Twist-Air Inline Air Regulator onto tools, hoses, or couplers... and spoil yourself!

The convenience and adjustability of this regulator is unmatched. It's got to the point that I despise using pneumatic tools without one. In fact, several of my pneumatic tools have their own built-in regulator, but with some of them, the regulator is either inconveniently located, overly touchy, or hard to adjust (due to air pressure resistance). For these tools, I set the factory regulator to wide open, and use the Twist-Air Inline Air Regulator instead.

This style of regulator has been difficult to locate for purchase in the USA. Those cheap & bulky brass regulators simply cannot compete with the quality and smoothness of a Twist-Air Inline Air Regulator. I managed to finally acquire a batch of these little gems, and have decided to sell them off at a fair price.

How they work: Install the regulator onto the air inlet side of tools, the air outlet side of hoses, or between hoses and couplers. Intricate adjustment is a breeze, as this regulator requires 1-3/4 turns lock-to-lock to fully open or close. It is compact in size, and easy to adjust, even while air is flowing.

Please be aware that when closed, these regulators are known to leak a small quantity of air. Therefore, do not rely on them as a "full-stop" device.

Specifications:

Thread type: 1/4" NPT Male & Female
Overall regulator length: 2"
Overall regulator diameter: 7/8"
Max air pressure, estimated: 140 PSI
Max air volume, estimated: 13.5 GPM (101 CFM)

Note about specifications:
As much time as I spent trying to confirm performance specs, I could not locate any bankable info. I have been using these exact regulators (and similar types) for several years, and have yet to be disappointed (zero failures). They have been used in excess of 150 PSI on tools requiring 110+ CFM, and air delivery has always been more than adequate.

Available in singles, 3-packs, and 6-packs.

For more air flow products, check out Prevost here.