Rupes 30mm Air-Powered De-Nibber








Click to enlarge image(s)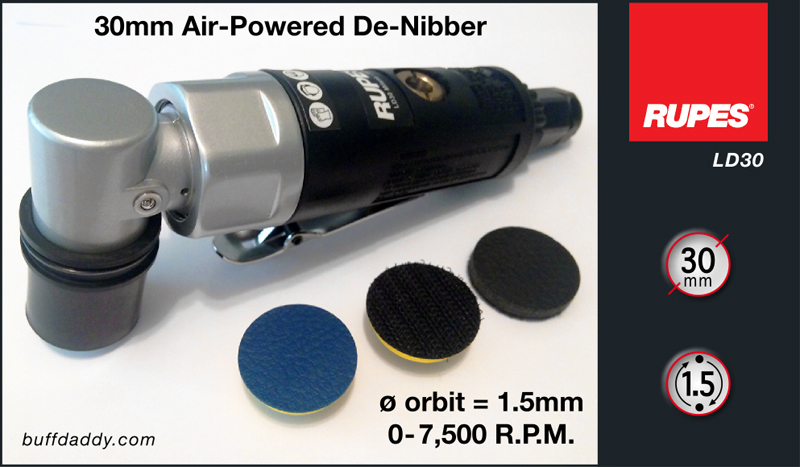 The tedious-work TERMINATOR.
The Rupes LD30 Air-Powered 30mm De-Nibber is an orbital-action sander. The motion it creates is similar to what your hand might create while drawing a circle, or scrubbing using a circular motion. This tiny machine makes short work of dirt nibs, paint sags & runs, and can level blobs of touch-up paint with ease.

Tiny orbit (1.5mm ø) = concentrated sanding power.
Precise sanding is no problem for the orbit-action LD30! Its backing plate moves so minutely, that you'd be hard pressed to mimic its motion using a handheld de-nibber (the LD30 is not a random orbital machine). Delivers a top speed of 7,500 orbits per minute (125 orbits per second), making short work of anything that gets in its way.

Use with PSA or Velcro-style sanding rosettes.
The Rupes LD30 is supplied with both vinyl and hook-style backing plates, allowing you to use any type of sanding disc or rosette you choose. We offer several grades of PSA (Peel and Stick Adhesive) sanding rosettes. Includes a hook & loop interface pad, which allows for improved contour sanding on curved surfaces.

Polish tight, small, or very confined areas.
Although not designed as a polisher, the Rupes LD30 can be successfully used to polish very small parts & areas (my friend Richard Lin regularly uses his LD30 to polish automotive paint & trim). A variety of buffing pads can be found here.

Looking for a compact air-powered polishing tool?
Random orbital machines: Rupes LHR75 / Mirka MR-3
Rotary-action machines: Rupes LH75P / Mirka MR-30

Add Sanding Rosettes. (save 15%)
Mirka brand sanding rosettes feature a peel and stick adhesive (PSA). Mirka's Waterproof Sanding Rosettes are available in P1500 and P2000 grades. Mirka's Polarshine Sanding Rosettes are available in P2500, P3000, and P5000 grades.

Add a Sanding Drum. (save 15%)
A sanding drum is the perfect handheld tool for all sorts of small sanding tasks. Use one in conjunction with a sanding rosette or disc for removing blend lines on airbrushed touch-ups, for leveling fills on rock chips, and for eliminating dirt nibs in factory or aftermarket paints. The Mirka FD-1 Sanding Drum is built using a semi-rigid polyurethane foam topped with durable blue vinyl ends.

Add a De-Nibbing Tool. (save 10%)
The Mirka S-BLADE Shark Blade is a handy little tool, capable of removing dirt nibs and high spots in one quick pass. Shaped carbide steel featuring a chamfered edges means these tools will last and last.

Motor specifications:
Pneumatic, power rating not known

Speed settings:
Variable @ 0 R.P.M - 7,500 R.P.M.


Machine type:
Orbital De-Nibber

Stroke size:
.75mm offset, creates a 1.5mm orbit diameter
Backing plates
Velcro (9P06.060) and Vinyl (9P06.061)
1-3/16" (30mm) diameter


Spindle mounting hole:
M10-1.25 female thread


Air requirements:
Pressure:
bar 6 / 88 PSI approximate

Consumption:
130 liters / 34.3 GPM / 4.6 CFM
Dimensions:
Size: 7" long x 1-1/2" wide x 3" tall
Length including inline regulator is 8-5/8"

Weight:
1 lb. 6 oz.