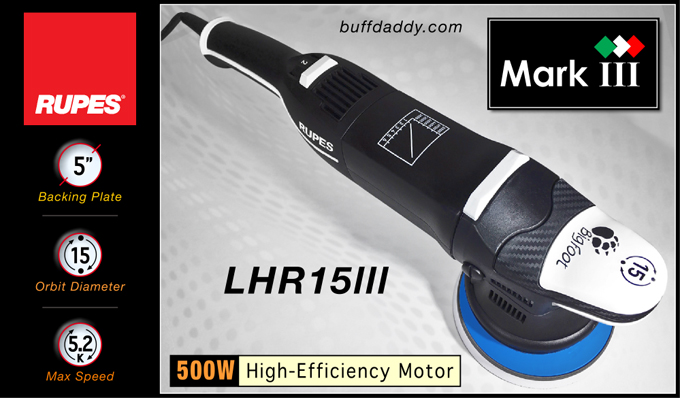 Compared to its predecessor, the Mark 3 features a variable speed trigger, a reprogrammed electronic control module, a higher top speed, an additional rubber stability bolster, and a longer cord.

Please click the accompanying images for in-depth information regarding all aspects pertaining to this machine.

The LHR15lll Mark 3 delivers:

• An orbit diameter of 15mm
• Super-fast cutting speed
• Fantastic finishing potential
• Extended working time per application of buffing liquid
• Less build-up of contaminants across the face of the pad
• Smooth swooping motions that increase user comfort
• Increased rotation of the backing plate vs. other machines



Add a variety of Rupes Buffing Pads. (save 30%)
You'll be ready to tackle just about any polishing task if you've got a set of Rupes® Buffing Pads on hand. Rupes Foam Pads have been specifically designed for use with large stroke, random orbital polishers (5 versions are available). Rupes Wool Pads deliver for a smooth & controlled feel (2 versions are available). Rupes Microfiber Pads deliver maximum cutting speed (2 versions are available).



Add a spare Velcro Backing Plate. (save 30%)
Having a spare backing plate on hand is smart. The Rupes 980.027N 5" Backing Plate is a direct replacement for the original. Note: purchase includes a free non-etched Washer Mod.



Add Rupes Buffing Liquids. (save 30%)
A trio of buffing liquids to choose from. All-new formulas.



Add a Flamethrower LED Light Kit. (save 30%)
This handy light mounts directly onto your polishing machine.



Add a pair of Polished Stainless Steel Bolts.
Replace the delicate factory supplied plastic bolts, with polished stainless steel bolts! Nicer looking, plus they allow for super-tightening of the head cap assembly.



Add a Duflle Bag or Carrying Case. (save 30%)
Never run out of room when transporting your polishing tools & accessories! Rupes Embroidered Duffle Bags & Carrying Cases are quality built. Two to choose from: Semi-Rigid Duffle Bag | BIG BAG Tool Case



Looking for a 6" version of this machine?

Rupes Mark 3 BigFoot

LHR21lll

6" Random Orbital Polisher.

Looking for an entry level version of this machine?

Rupes LEGACY BigFoot

LHR15ES

5" Random Orbital Polisher.

Looking for a 3" companion to this machine?

Rupes

LHR75E

BigFoot 3" Random Orbital Polisher.

Note: A free, uninstalled Washer Mod is included with purchase. This machine carries a one-year parts and labor warranty.
Rupes USA offers the industry's fairest, fastest, & finest repair service! Check it out here.