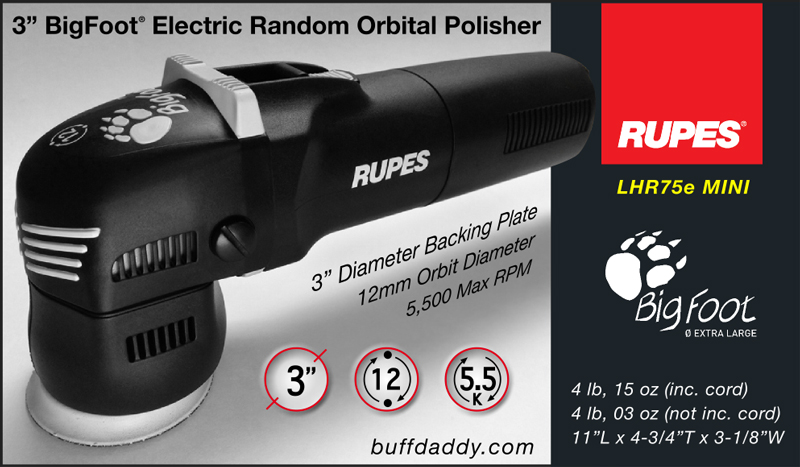 Duetto. Serving double-duty as a sander and polisher.
Big FOOTSTEP. Little FOOT.

The Rupes® LHR75e BigFoot 3" Electric Mini Random Orbital Polisher is just as beastly as its larger BigFoot brothers.... except it's smaller! To tout it as a capable polishing tool would be an appalling understatement. Run of the mill small-diameter polishers can't compete with the performance of this machine.
The LHR75e BigFoot creates a 12mm diameter orbit.
Random orbital machines that use 3"to 4" discs and pads typically create miniscule orbits, sometimes as small as a few millimeters. The Rupes LHR75e creates a 12mm diameter orbit, which really gets pads, discs, and compounds moving.
Why is a large diameter stroke or orbit beneficial?
To better understand why a large stroke machine can deliver better and faster polishing results, imagine hand sanding a panel of wood with a typical sanding block & paper using very short 1mm back and forth strokes. Although sanding would be concentrated and exact, most of the sanding debris would remain positioned between the sandpaper and wood panel. Rapid clogging of the sandpaper would likely occur, effectively limiting cutting power and finishing potential. However, if the length of each sanding stroke was increased (within a similar time frame), the sandpaper would move along at a more rapid pace. The increased speed of motion would assist in loosening any stuck-on debris from the sandpaper, all the while helping to eliminate sanding debris residing between the paper and wood surface. The exact same principles of extending the stroke apply when using the LHR75e, except the motion is rotational, not linear.
High speed + lots of motion = very fast polishing.
A majority of the buffing liquids available today utilize abrasive particles that are engineered to assist in polishing the surfaces we're working on. To work efficiently, these particles must occasionally shift and tumble in order to keep them free of debris, minimize clumping of the abrasives, and slow contamination of the buffing pad. The LHR75e's large-diameter stroke (12mm) and high speed capability (5,500 RPM) combine to deliver unrivaled performance in this regard, utterly stomping the performance mustered by other small electric machines.
The LHR75e BigFoot can be used for sanding.
This versatile tool can also be used for sanding purposes, but the user should have at least some experience with machine sanding, because sanding can take place rapidly. In addition, edge-digging and consequental deep scouring of the surface may occur if the machine is not kept level to the surface being sanded. It is not necessary nor desirable to use high speeds when sanding; the ideal speed is one that allows the disc to travel along the surface in a smooth, flowing manner, with at least some rotation of the backing plate. Use of a foam interface pad is highly recommended.
The LHR75 BigFoot leaves surfaces beautifully polished & remarkably scour-free.
The first time I used a large stroke random orbital polisher, curious and a bit confused might best describe what I felt upon inspecting the paint surface after a brief polishing test. Rather than seeing scour marks or haziness (as is often the case when using small diameter pads for compounding), I instead saw a beautifully polished & scour-free result. Initially, you may only use the Rupes LHR75e for tight-area polishing, for small parts, and perhaps for polishing bumpers and headlights. Inevitably, you'll very likely use this beast to polish large areas too.

The LHR75e BigFoot is easy to control, and fun to use!
The moment you use the Rupes 3" Mini Electric Random Orbital Polisher, it is immediately apparent how managable it is to operate. The LHR75e Mini is specifically balanced for use with Rupes-brand (3") Foam, Microfiber, or Wool Pads (new!), but can also be used with other similarly-sized pads.
To recap, this machine features:
• Super-fast cutting speed
• Fantastic finishing potential
• Extended working time per application of buffing liquid
• Less build-up of contaminants across the face of discs & pads
• Smooth & balanced swooping motions for increased user comfort
• Increased rotation of the backing plate versus other small machines

Add a Rupes 4-Piece Pad Set, save 17%.
You'll be ready to tackle just about any polising task if you've got a set of Rupes® Buffing Pads on hand. Choose foam, microfiber, or wool pads. The Foam Pad Set includes four grades of pads (extra-cut, intermediate, fine, and ultra-fine). The Microfiber Pad Set includes a pair of the blue cutting pads, and a pair of the yellow finishing pads. The all-new Rupes Wool Pad Set includes a pair of the blue coarse wool, and the yellow medium wool.



Add a spare backing plate, save 15%.
Better to be safe than sorry! Having a spare backing plate on hand is always smart. The Rupes 990.007 3" Backing Plate is a direct replacement for the factory installed unit. These backing plates are not all that common in the USA... so plan ahead!



Add an interface pad, save 15%.
If there's even a small chance that you'll be using the LHR75e for sanding chores, you'll want to have an interface pad handy. By placing an interface pad between the sanding disc and backing plate, sanding discs will more easily conform to curved or complex surfaces. Should you inadvertently add excessive tilt to the machine during use, an interface pad will help to better distribute pressure across the entire face of the disc. 1033 | 9133