Prevost Air Hose













Click to enlarge image(s)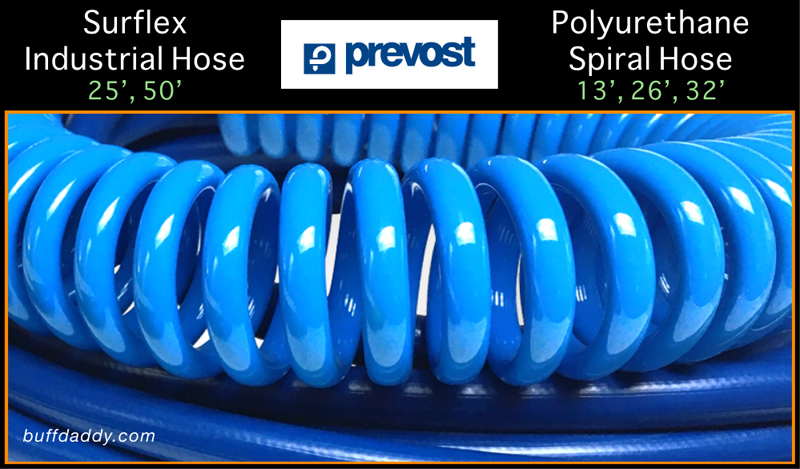 Prevost Surflex Industrial Air Hose & Polyurethane Spiral Air Hose.
Quality you can feel, durability you can count on. Prevost Surflex Industrial Rubber Air Hoses are available in 25' and 50' lengths. Hose ends feature 1/4" Male NPT thread. Threads are fixed, and do not rotate. Rubber hose material is soft enough to spool into a compact size, but durable enough to use daily.

Part #: 25' SUR 3825 | 50' SUR 3850
Specs: 1/4" MNPT thread | 3/8" ID | 300 PSI max

Prevost Polyurethane Spiral Air Hose.
Not your average plastic coiled hose! Prevost Polyurethane Spiral Hoses are super flexible, kink-resistant, and extremely durable. They are available in 13', 26', and 32' lengths (fully extended), making them perfect for use in a variety of locations.

Hose ends feature super durable non-slip rubber grips (3-5/16" length). Inlet threads do not rotate. Outlet threads feature 360º rotation, designed to increase user comfort, as well as minimize hose kink & twist.

Part #: 13' PUS 264 | 26' PUS 268 | 32' PUS 2610
Specs: 1/4" MNPT thread | 5/16" ID | 116 PSI max

A Free Hose Fitting is included with each hose. Plug in that hose, and get to work! A free Fitting is included with the purchase of every Prevost Air Hose. Be sure to view the detailed images above to identify which style or profile of fitting you are utilizing within your air system.


Add a Protective Boot
.
Cover metal hose ends, clamps, and coupler nuts. The

Blue Non-Scratch Boot
fits the Surflex Hose perfectly, but is difficult to install onto the Polyurethane Spiral Hose, as it already has a molded-on rubber grip. The

Black Ear Clamp Cover
& Coupling Protector features molded-in channels designed to hide away exposed hose clamps. Works perfectly with Surflex and Polyurethane Spiral Hoses. NSB 0614 | ECP S11720

Prevost Hose Kits
.
We offer several build-your-own hose kits. Check them out
here
.

For optimum performance
:
Use only precision-matched Prevost Fittings/Plugs. Purchase them
here
.

We carry a wide
variety
of Prevost products. View them
here
.


• A fitting or plug mounts to the inlet side of a hose
or tool. Fittings plug into couplers, and lock into place.


• Three sizes of NPT thread are commonly used to
build compressed-air systems (1/4" | 3/8" | 1/2").
• A coupler mounts to the outlet side of a compressor,
hose, or distribution block. Couplers accept fittings that
plug into them, coupling or mating them together.


• NPT thread: National Pipe Taper thread progressively
flares in diameter from small to large. This ensures an
airtight seal as components are screwed together.


• Prevost ORIGINAL 1-Push Instant Disconnect Coupler


• Industrial Profile


Part number & SKU & thread type:
IRC061201 | IRC 061201 | 1/4" NPT female
IRC061251 | IRC 061251 | 1/4" NPT male

Specifications:
Operating Pressure: 0-174 PSI
Max Flow Rate: 32 CFM @ 100 PSI