Prevost Air Hose KIT - Original Coupler • Industrial Profile
















Click to enlarge image(s)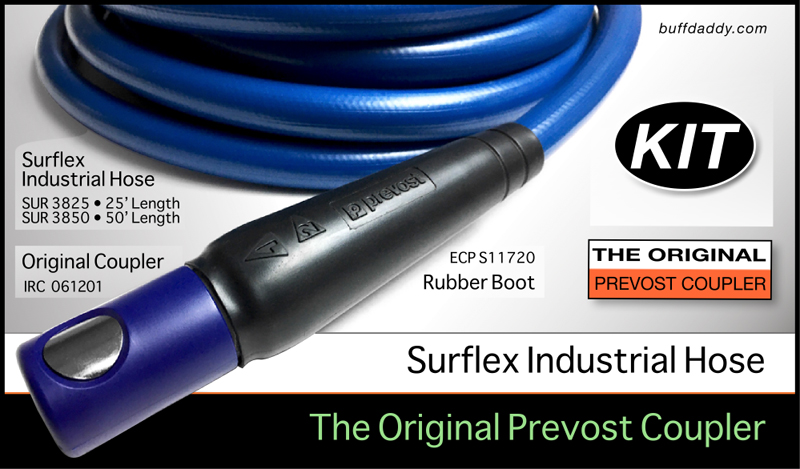 Simplified shopping, for Prevost Industrial Profile products.
Piecing together an air distribution system can be confusing. To simplify things, we've gathered up the components needed to build a basic air distribution system, and listed them here. This page features ultra-premium Prevost products, including:
• Prevost Original Series Couplers
• Prevost S1 Compact Blowguns
• Prevost Surflex Industrial Hose
• Prevost Polyurethane Spiral Hose
• Prevost Fittings & Accessories

Prevost Original Instant Disconnect Couplers
are unforgettably impressive! If you cannot recall the first time you
tried
one, then you've probably never
used
one! This coupler remains among the most
compact
within the Prevost lineup. Should the coupler happen to encounter a delicate surface, its metal body is covered in an easy-grip, smooth composite material that minimizes marring.
Installing a fitting into the coupler is simple: Press the fitting into the coupler until it locks into place. Push the chrome plated button to release connected tools & devices. Available in Industrial Profile
only
.

Prevo S1 Compact Blowguns
.
Super compact, easy to manage. Composite or metal tip.

Prevost Air Hose
.
Traditional or spiral hose. Several lengths available.

Prevost Hose Kits
... Build your own!
Includes hose, coupler, & plug. Choose hose & blowgun type.

For optimum performance
:
Use only precision-matched Prevost Fittings/Plugs. Purchase them
here
.

We carry a wide variety of Prevost products. View them here.

Industrial Profile couplers also available: Prolac | S1 Safety


• A fitting or plug mounts to the inlet side of a hose
or tool. Fittings plug into couplers, and lock into place.


• Three sizes of NPT thread are commonly used to
build compressed-air systems (1/4" | 3/8" | 1/2").
• A coupler mounts to the outlet side of a compressor,
hose, or distribution block. Couplers accept fittings that
plug into them, coupling or mating them together.


• NPT thread: National Pipe Taper thread progressively
flares in diameter from small to large. This ensures an
airtight seal as components are screwed together.


• Prevost ORIGINAL 1-Push Instant Disconnect Coupler


• Industrial Profile


Part number & SKU & thread type:
IRC061201 | IRC 061201 | 1/4" NPT female
IRC061251 | IRC 061251 | 1/4" NPT male

Specifications:
Operating Pressure: 0-174 PSI
Max Flow Rate: 32 CFM @ 100 PSI