Prevost Original Coupler




Click to enlarge image(s)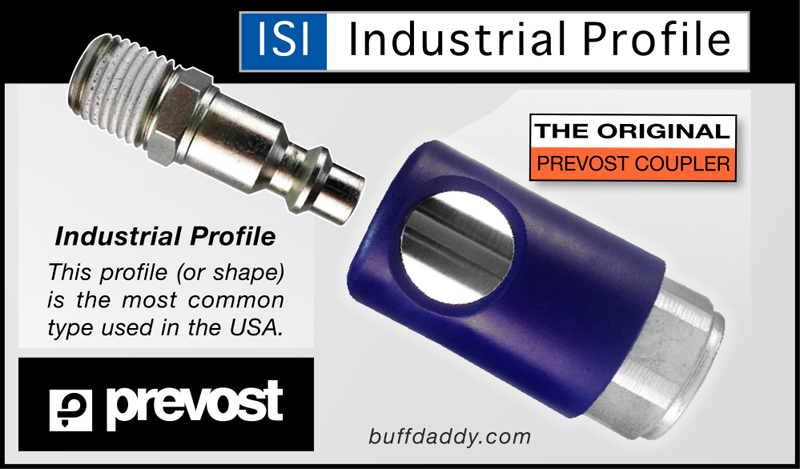 The ORIGINAL Prevost® Coupler.
If you cannot recall the first time you tried a
Prevost 1-Push Instant Disconnect Coupler
, then you've probably NEVER used one! This particular version is the
original
, and remains among the most
compact
within the Prevost lineup. Should the coupler happen to encounter a delicate surface, its metal body is covered in an easy-grip, smooth composite material that minimizes marring.

Connect/Disconnect.
Installing a fitting into the coupler is simple: Press the fitting into the coupler until it locks into place. Push the chrome plated button to release connected tools & devices. Available in Industrial Profile only.

For optimum performance:
Use only precision-matched Prevost Fittings/Plugs. Purchase them here.



Add an S1 Compact Blowgun. Composite or metal tip.

Also available within a kit.

We carry a wide variety of Prevost products. View them here.

Industrial Profile couplers are available in two other versions: Prolac | S1 Safety


• A fitting or plug mounts to the inlet side of a hose
or tool. Fittings plug into couplers, and lock into place.


• Three sizes of NPT thread are commonly used to
build compressed-air systems (1/4" | 3/8" | 1/2").
• A coupler mounts to the outlet side of a compressor,
hose, or distribution block. Couplers accept fittings that
plug into them, coupling or mating them together.


• NPT thread: National Pipe Taper thread progressively
flares in diameter from small to large. This ensures an
airtight seal as components are screwed together.


• Prevost ORIGINAL 1-Push Instant Disconnect Coupler


• Industrial Profile


Part number & SKU & thread type:
IRC061201 | IRC 061201 | 1/4" NPT female
IRC061251 | IRC 061251 | 1/4" NPT male

Specifications:
Operating Pressure: 0-174 PSI
Max Flow Rate: 32 CFM @ 100 PSI