Prevost ALTO Series Filter & Regulator






Click to enlarge image(s)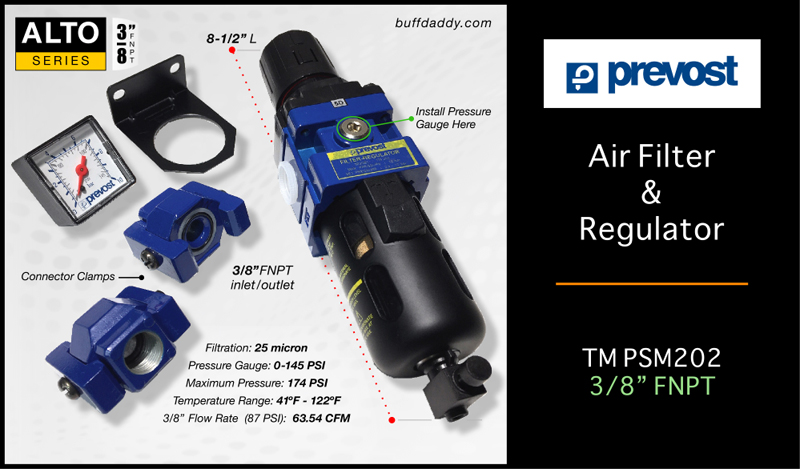 Clean up your act! Install a Prevost® ALTO Air Filter & Regulator.


For general-duty garage work, a Prevost® ALTO Air Filter & Regulator can sufficiently eliminate water from the line, trap particulate debris, and regulate air pressure.

An easily replaceable filter traps particulate debris. Tool components such as needle & seats, motor vanes, and o-ring seals remain grit & goop-free.

A conveniently located knob allows for simple adjustment of air pressure. A pressurized push-button drains water from the see through polycarbonate water bowl. Precision pressure gauge & wall mount bracket is included, when noted.


Prevost® ALTO Series Filters & Regulators are available in four thread sizes:


• ALTO 1 | 1/4" NPT thread (in stock)
• ALTO 2 | 3/8" NPT thread (in stock)
• ALTO 3 | 1/2" NPT thread (special order)
• ALTO 4 | 3/4" NPT thread (special order)



Also available
: Prevost Pipe Clamps.
Pipe Clamps thread onto inlet & outlet pipes or hoses, enabling specific Prevost ALTO components to be slid into place. Sold in pairs. Please be aware that some Alto units already
include
a pair of these clamps; look for a "
P
" within the part number (e.g. TM
P
SM202).
1/4" thread:
TC P201
|
3/8" thread:
TC P202

Also available
: Prevost Replacement Filters.
We stock replacement filtraton elements for Alto Series Filtration units.

Also available
: Rupes Inline Air Regulator.
The Rupes®
9P03.060
Inline Air Regulator enables control of air flow... on the go! Requiring 1-3/4 turns from fully open to fully closed, this regulator makes it very easy to dial in the exact amount of air flow. It can be used with tools that either have a built-in regulator that is overly finicky, or with tools that do not have a built-in regulator at all. Build quality is superb. Thread size is 1/4" NPT male/female.

We carry a wide variety of Prevost products. View them here.


• A fitting or plug mounts to the inlet side of a hose
or tool. Fittings plug into couplers, and lock into place.


• Three sizes of NPT thread are commonly used to
build compressed-air systems (1/4" | 3/8" | 1/2").
• A coupler mounts to the outlet side of a compressor,
hose, or distribution block. Couplers accept fittings that
plug into them, coupling or mating them together.


• NPT thread: National Pipe Taper thread progressively
flares in diameter from small to large. This ensures an
airtight seal as components are screwed together.


• 201 = 1/4" NPT thread
• 202 = 3/8" NPT thread


• 203 = 1/2" NPT thread
• 204 = 3/4" NPT thread


• TM = regulator designation
• TM 201 = regulator only
• TM SM 201 = regulator, gauge
• TM P SM 201 = regulator, gauge, bracket, clamps