Prevost PREVO S1 Safety Coupler- High Flow Profile








Click to enlarge image(s)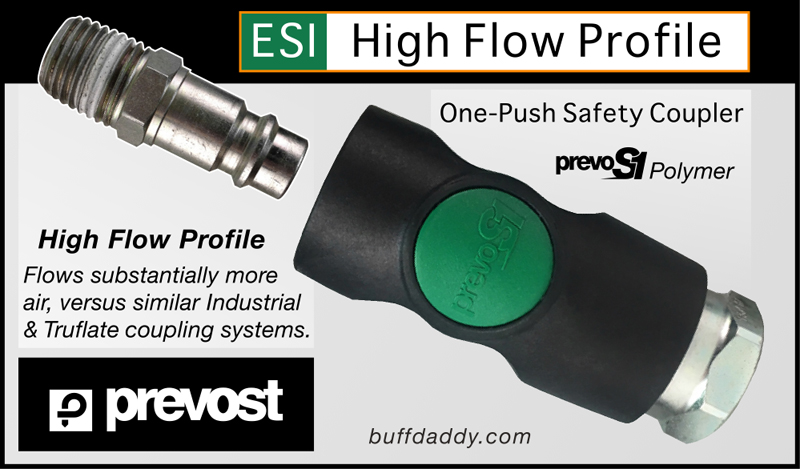 Prevost PREVO S1 Safety Coupler - High Flow Profile.


The moment you place a

Prevost® PREVO S1 Safety Coupler

in your hand, it becomes immediately apparent that this is no ordinary coupler.





Comfortable feel. Prevo S1 One-Push Safety Couplers feature ergonomically shaped, non-marring rugged composite polymer bodies. Installing a fitting into the coupler is direct, and precise. Easy-to-press air release button makes a distinct sound, and does not release the fitting until compressed air has fully evacuated the line.


To connect: Press the fitting into the coupler until it locks into place.
To release: Press the disconnect button once.



For optimum performance:
Use only precision-matched Prevost Fittings/Plugs. Purchase them here.



Add an S1 Compact Blowgun. Composite or metal tip.

Also available within a kit.

We carry a wide variety of Prevost products. View them here.

Also available in

Industrial and

Truflate profiles.


• A fitting or plug mounts to the inlet side of a hose
or tool. Fittings plug into couplers, and lock into place.


• Three sizes of NPT thread are commonly used to
build compressed-air systems (1/4" | 3/8" | 1/2").
• A coupler mounts to the outlet side of a compressor,
hose, or distribution block. Couplers accept fittings that
plug into them, coupling or mating them together.


• NPT thread: National Pipe Taper thread progressively
flares in diameter from small to large. This ensures an
airtight seal as components are screwed together.


• Prevost Prevo S1 1-Push Safety Coupler


• High Flow Profile


Part number & SKU & thread type:
ESI071201 | ESI 071201 | 1/4" NPT female
ESI071251 | ESI 071251 | 1/4" NPT male

Specifications:
Operating Pressure: 29-174 PSI
Max Flow Rate: 73CFM @ 100 PSI