Rupes 3" Random Orbital Palm Sander







Click to enlarge image(s)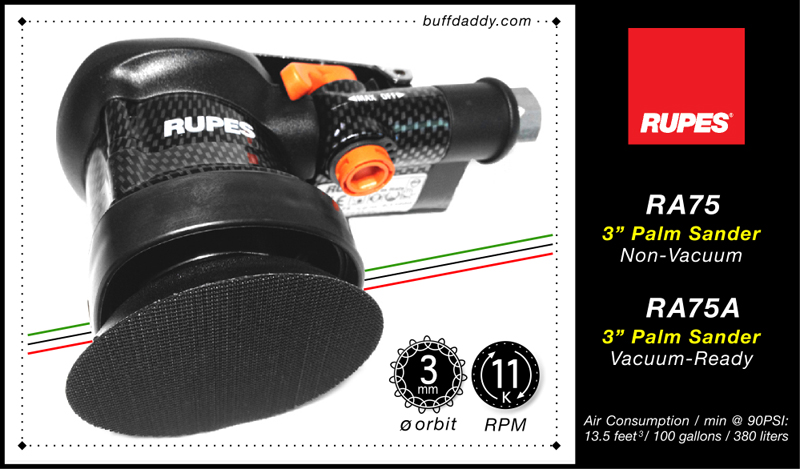 Rupes® RA75.
If you've already got a Rupes Skorpio Random Orbital Palm Sander in your sanding machine lineup... it's time that you accompany it with its little brother. Say hello to the Rupes RA75 3" Random Orbital Palm Sander!
The Rupes RA75 3" DA Palm Sander features an ergonomic design that feels sturdy, making it feel planted during use. Its throttle level is superb, and placed directly next to the paddle level, making on-the-fly speed adjustments a breeze.

Use the RA75 to sand plastic headlight lenses, painted dashboard pieces, and even hot rod engine bays! Its 3mm orbit diameter and 11,000 RPM allow this sander to work in tight areas, corners or on anything that requires a fine touch while sanding. This machine is available in standard and vacuum-ready versions (the vacuum-ready machine features a dust collection shroud, and a port that allows a vacuum hose to be connected to the machine).

When paired with a low profile buffing pad (such as the Mirka 5723 3-1/2" Low Profile Foam Buffing Pads, or the Meguiar's DMC3 3" DA Microfiber Discs), the Rupes RA75 3" Palm Sander can be used as a strategic-area random orbital polisher. Also available: Mirka® MR-3 3"Air-Powered Palm Sander.
Looking for a weaponized large stroke 3" polisher that serve double duty as a sander?
Check out the air-powered Rupes LHR75 3" BigFoot Mini Random Orbital Polisher.