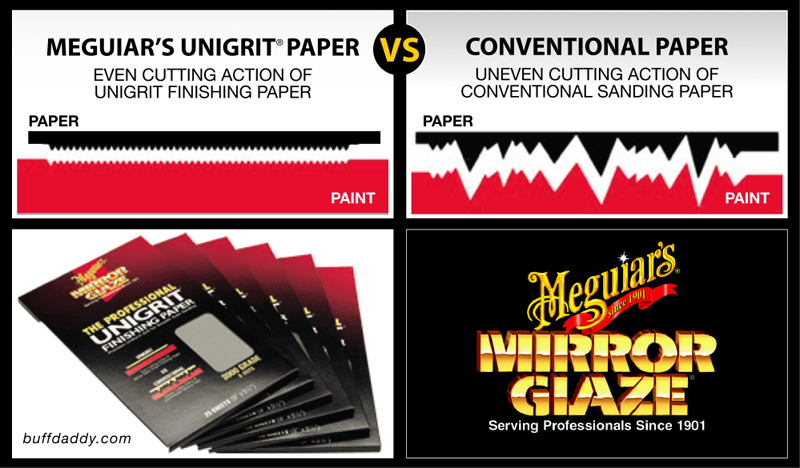 Buy one at a time, or in sleeves of 25!
Hand sanding can be time consuming, and results can be inconsistent. Meguiar's Unigrit® Finishing Papers can solve both of these problems.

By using very refined particles and placing them closely together, Unigrit delivers quick and consistent sanding results. In short, Unigrit® Finishing Papers cut smooth and fast.

The bonding system used to make Unigrit sheets keeps the abrasive grains where they're supposed to be- on the latex-coated paper. Ultra-durable silicon carbide abrasive grains enable sheets to last up to twice as long as inferior "competitive" papers.

We sell Unigrit Finishing Papers by the sheet or by the sleeve (25 sheets), making them cost effective, regardless the task. Also available in a Combo Pack.

Notes:
• Meguiar's Unigrit Finishing Papers are actually Japanese-made Nikken® Silicon Carbide Waterproof Abrasive Papers. Meguiar's is an exclusive USA distributor of Nikken Finishing Paper.

• Meguiar's Unigrit Finishing Sheets measure 5-1/2" x 9", which is considered a half sheet.
A typical sanding sheet measures 9" x 11", such as Mirka's Waterproof Finishing Sheets.

Add a Foam Sanding Pad
.
Foam sanding pads helps to evenly distribute applied pressure across the paper. Mirka 121-002 Dual Density Sanding Pads are soft on one side, and firm on the other. Meguiar's E7200 Sanding Backing Pads are less rigid than their Mirka counterparts. They are commonly used to squeegee wetsanded surfaces dry, speeding up the inspection of a freshly sanded surface. More info: E7200 | 121-002