Mirka Polarstar SR 32mm Spot Repair Discs










Click to enlarge image(s)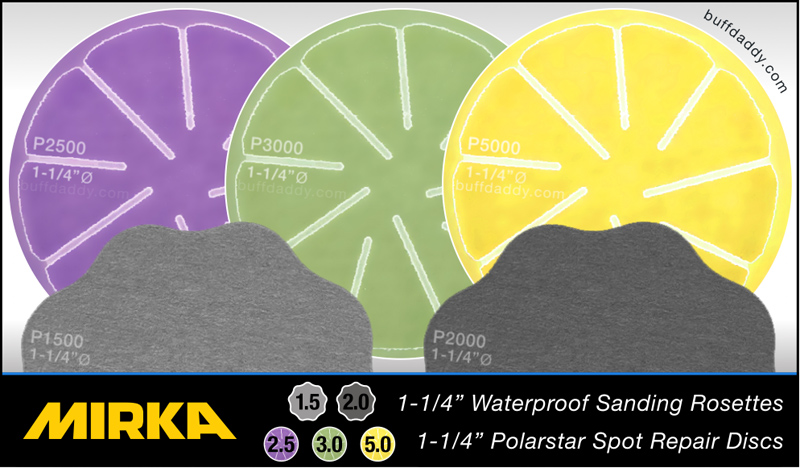 Mirka Waterproof Sanding Rosettes and Polarstar Spot Repair Discs are designed to strategically deal with small paint imperfections. Use them to eliminate dirt nibs, sags & runs, touch-up blobs, and random scratches.

Adhesive-backed discs & rosettes attach to industry standard 1.25" diameter (32mm) vinyl-faced sanding drums & backing plates. They are equally capable when used by hand or machine. Although rosettes & discs can be used dry, they typically deliver a superior result when used wet.

Mirka Waterproof Sanding Rosettes.
Waterproof Sanding Rosettes utilize a time-tested, flower petal design. Their performance reminiscent of Mirka's Waterproof Finishing Sheets. Latex-impregnated paper backing increases durability when used wet. Ultra-sharp silicon carbide abrasive grains are held in place via durable resin. An anti-clogging agent resides between the grains, while a layer of latex further resists clogging, bolsters durability, and increases water resistance.

Dimensions: 1.34" (34mm) inner wave | 1.50" (38mm) outer wave
Available in P1500 and P2000 grades (10 per sheet).



Mirka Polarstar SR Spot Repair Discs.
Polarstar SR Spot Repair Discs are unique looking, but they're not just a pretty face! Polyester backing is consistently flat, enabling these discs to deliver a very leveled surface. Precise layered-application of nanionic and micronic abrasive grains ensure an extemely critical depth of cut, while anti-clogging technology resists packing of the disc during use.

Dimensions: 1.25" (32mm) diameter
Available in P2500, P3000, and P5000 grades (10 per sheet).



Add a Vinyl-Faced Sanding Drum.
The Mirka Sanding Drum is used in conjunction small stick-on sanding discs & rosettes. Use this handy little tool to smooth blobby paint touch-ups, remove dirt nibs, or precisely deal with small paint defects. Use side-by-side with the Mirka Shark Blade or the Mirka Mini De-nibbing File to final-refine affected areas. Semi-rigid yellow foam, blue vinyl endcaps. More info: FD-1



Add a Double-Sided Mini File.
Make short work of sags & runs the old-fashioned way: file them away! The Mirka Mini Denibbing File features a magnetically attached, 2-sided file (coarse & fine). More info: MINF

Add a Shark Blade Carbide Scraper.
The Mirka Shark Blade Scraper is capable of precisely removing dirt nibs and high spots, in a few quick passes. To use, simply
tilt
the blade onto its chamfered edge and gently
push
against dirt nibs or paint blobs, runs, & sags. The Shark Blade's chamfered edges remain sharp & true, enabling it to slice through debris for years.
More info: S-BLADE

Add a Unigrit Sanding Block
.
Meguiar's Unigrit Sanding Blocks are designed to remove runs, sags, dirt, and other small isolated paint defects. They are available in P1000, P1500, and P2000 grades.
More info: Unigrit Blocks