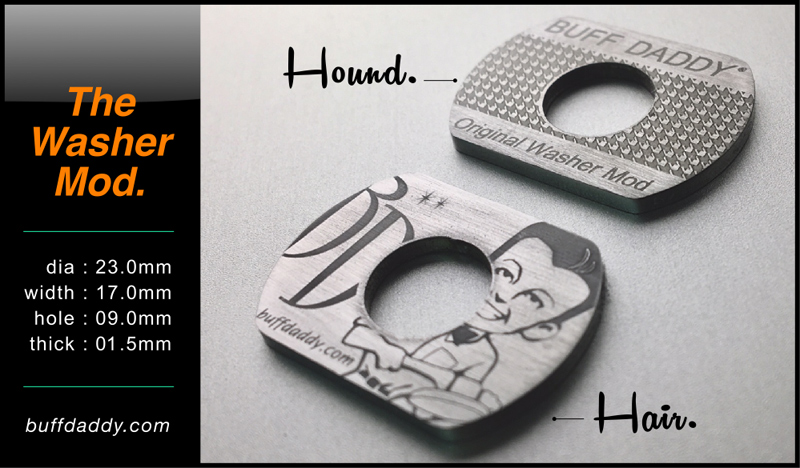 The KBM WASHER MOD.
Creates a GAP, potentially increasing backing plate rotation.



6-23-2020 Note:

At this time, all washers will be shipped

without

the laser etching. Washers continue to feature fully polished edges. Thanks! Kevin.



Washer Mod Specifications:
23mm diameter, 17mm width, 9mm center hole, 1.5mm thick.

These washers fit the updated versions of Rupes backing plates.
The 980.015 is now the 980.015N.
The 980.027 is now the 980.027N.
The 981.320 is now the 980.320N.
The 981.321 is now the 981.321N.



* Washers ship via Regular First Class Mail

.*


• If you order a washer only, the site will not charge a shipping fee.
• Washers are packaged in a typical white envelope.
• There is no tracking supplied with delivery, as it would add an additional $3.50 to each order.
• If a washer is purchased with additional goods, the washer will ship with the rest of the order.



** International Orders **




Order requirement is (10) washers, plus actual shipping

. Order is sent via Priority Mail Padded Envelope. Consider purchasing other small items, as there will be space for things such as extensions, backing plates, small pads, etc. To order, contact me via e-mail (iamwaxman@aol.com) or FB Messenger (kevinbrown.buffdaddy).

Warranty note, as required by Rupes USA

:

"This modification is not approved or endorsed by RUPES. Any tool failure resulting from the use of unapproved accessories or modifications to your polisher is your sole responsibility, and by installing a washer, you agree that RUPES cannot be held liable for resulting damage or injury. By modifying your RUPES tool from its factory specifications, you waive any claim to warranty coverage for failures associated with or

caused

by the modification."



Note regarding the required note:


There is NO ABSOLUTE DATA that points to catastrophic failures of factory components, due to the installation of one of these gap-creating devices (washer / spacer). Hi-grade stainless steel washers have been utilized to create a micro-gap between the rubber boot and backing plate since the introduction of the LHR15ES and LHR21ES into the North American market (November 2012). Further, it was cleared back in 2013 via Rupes S.p.A. as being something that would

not

(or

legally

could not) automatically invalidate the warranty. To be clear, the required note does not claim invalidation of the warranty, only that any damages caused by non-Rupes products would do so.

A washer has been supplied with every backing plate & machine I've sold, and yet I have never received a substantiated complaint that a washer undoubtedly caused damage, or catastrophic machine or component failure. It is highly likely that the requirement to list this information has to do with the introduction of aftermarket backing plates, some of which weigh 50% more than a factory supplied backing plate! It should be noted that factory installed 5" & 6" backing plates weigh in the range of 126-130 grams (4.4- 4.6 oz), whereas some aftermarket plates exceed 180 grams (6.35oz). In light of the fact that a discrepancy of only 5g (.18oz) can alter machine balance and its smooth feel, it is easy to imagine just how stressful and violent this sort of weight increase might create! Thank you, Kevin Brown.



6-23-2020 Note:

At this time, all washers will be shippied

without

the laser etching. Washers continue to feature fully polished edges. Thanks! Kevin.