Mirka 3" Diameter Velcro Backing Plate




Click to enlarge image(s)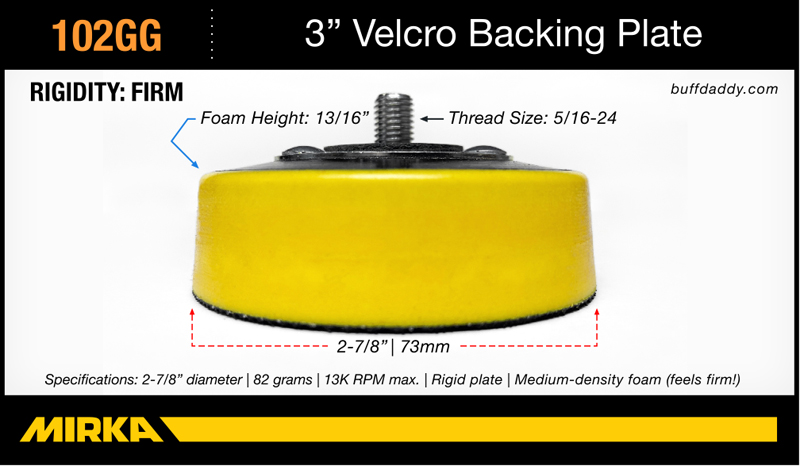 A chunky bruiser of a plate. Micro-hook Velcro.
The Mirka 102GG 3" Velcro Backing Plate is built like a tank. Its height comes in handy at times, while the added weight allows it to work well with machines designed for 5" and 6" backing plates. Molded polymer construction means that the black hub, yellow foam center, and Velcro face are molded together, not glued. Consequently, durability is tip-top.

The face of the plate is stiff, yet when used on curved surfaces its edge conforms to some degree. Its micro-hook Velcro is short, grabby, and long lasting. Should the side of the plate happen to contact a delicate object, you'll be relieved to know that it is soft to the touch. This is great addition to your backing plate arsenal.

Mirka 102GG specifications: 2-7/8" diameter | 5/16-24 male thread



Sanding? Add a Mirka Interface Pad.
Interface pads increase contourability and help to better distribute applied pressure across the face of the disc. To achieve maximum cushioning and shapability of the sanding disc, this is the interface pad you'll need. The Mirka 1033 3" Velcro Interface Pad measures 3" in diameter, and is 1/2" tall. More info: 1033



Need 3" sanding discs?
We offer several types of 3" Mirka® Sanding Discs, available in any quantity: Silver | Abralon | Abranet | Autonet



Need 3" buffing pads discs?
We offer several types of 3" buffing pads. Check them out here.



To view our entire backing plate lineup, visit the Backing Plate Main Page.