Mirka Abranet® 6" Pad Protector- 1/8" thick
Click to enlarge image(s)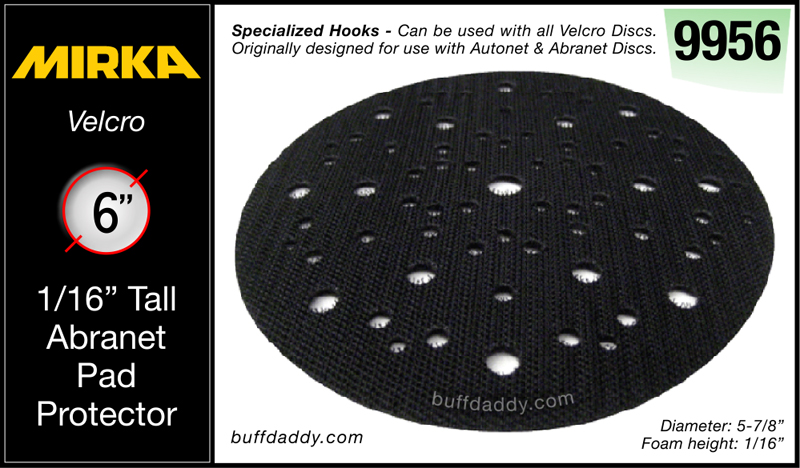 Designed for use with Abranet and Autonet Sanding Discs.
The open mesh design employed in Abranet and Autonet products may allow the hook material of a backing plate to protrude through the mesh. If this occurs, the backing plate hooks will degrade quickly. Even worse, the hook material can cause surface marring! Avoid this problem by installing a Pad Protector. Also available in a 3" version: 9947

This simple device will not only protect the backing plate and surface being sanded, it also increases adhesion of the sanding disc to the backing plate. Since the Pad Protector is only about 1/16" thick, in most cases it will not affect the leveling capability of the disc.



Add a 3M® 05791 Hookit 6" Flexible Velcro Hand Pad.
This versatile Flexible Round Hand Pad helps to distribute pressure much more evenly. The elastic strap keeps the pad attached to your hand while you sand, increasing comfort and control. If you use a water bucket while wet sanding, you'll appreciate this fact: It floats!

More info: 6" Flexible Velcro Hand Pad



Add a 6" 3M® 05792 Hookit 6" Half-Round Velcro Hand Pad.
This taco-shaped pad is somewhat rigid, with only minimal flexibility. Its straight edge features a smooth 1/4" radius, enabling it to be used inside inward-curved areas. Although designed for use with 6-inch diameter discs, it is not an exact fit: it's as if someone didn't account for the 1/4" radius. Regardless, this 3M version is the best fitting (and thinnest) available.

More info: 6" Half-Round Velcro Hand Pad



Add an interface pad. The time may come when you'll need to sand a sphere-shaped item, a cylinder, or a wickedly-curved fender. To increase cushioning and shapability of net mesh sanding discs, this is the interface pad you'll need. The Mirka 9166 6" Abranet Interface Pad measures 5-7/8" in diameter, and is 3/16" tall. Note that due to its height, this interface pad may lessen sanding disc movement, particularly if paired with small stroke machines. Also available in a 3" version: 9133



Mirka 6" Velcro Backing Plates can be found here.



Mirka 6" Velcro Interface Pads: 1066 | 9956 | 9166



Mirka 6" Velcro Sanding Discs can be found here:
Abralon | Abranet | Autonet | Silver | Microstar



More Interface Pad info: Interface Pad Facts.

#9947 3" pad: actual diameter 2-7/8"


Compatible with Abranet® or Autonet™ discs


Pad Protector is MANDATORY to use if no other interface pad is used between the sanding disc and backing plate


Greatly improves the adhesion of discs to the backing plate

#9956 6" pad: actual diameter 5-7/8"


Pad protector attaches to any hook & loop backing plate


Acts as a barrier so the backing plate hook material will not protrude through the sanding disc


Extends the life of the backing plate