Mirka Abranet® 3" Mesh Fabric Disc


Click to enlarge image(s)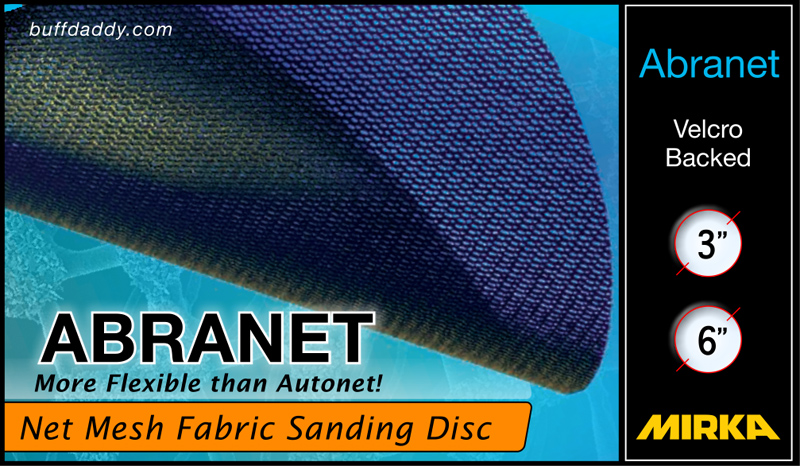 Behold, the legendary Abranet Net Mesh Sanding Disc.
You'll be hard pressed to find another sanding disc that offers the versatility of an Abranet Disc. By choosing the appropriate interface pad, Abranet discs can impressively level surfaces or contour to them. Thanks to its net mesh backing, Abranet discs work well wet or dry. Plus, they stay clean longer than traditional film-backed discs, especially when paired with a vacuum system.

Abranet discs have been used to perfectly sand just about any surface imaginable, which is why they continue to be popular the world over. If you had to use just one style of disc to tackle all of your various sanding duties... Abranet discs would be hard to beat!

Available in 3" and 6" diameters.
Disc grades: P80 / P120 / P150 / P180 / P240 / P320 / P400 / P600 / P800 / P1000

Technical tidbits. Traditional sanding products typically use paper as the backing to which the abrasive grains are attached. Instead of paper, Mirka Abranet Discs feature a strong yet flexible polyamide fabric. The mesh material is constructed using a crisscross net pattern (think of a tic-tac-toe board, and you'll get the idea). The abrasive particles are attached to the mesh, essentially creating a net of abrasive that can easily contour to complex shapes.

Although net-mesh discs don't utilize the sheer quantity of abrasive particles that film-backed discs employ, the results speak for themselves. By eliminating the solid backing and replacing it with one featuring an abundance of openings, dust is swept from the surface, or vacuumed away altogether.

Note: Abranet discs require the use of a specialized Pad Protector or Interface Pad.
Check out the images above to see close-ups of how the Pad Protector works.

More Abranet info: All About Mirka Net Mesh Discs.
Abranet specifications listed here.

Available in a Combo Pack here.
All Combo Packs: Abralon | Abranet | Autonet | Silver | Microstar



Autonet is also available in a 6"version here.



Mirka 3" Velcro Backing Plates can be found here.



Mirka 3" Velcro Interface Pads: 1033 | 9947 | 9133



Mirka 3" Velcro Sanding Discs can be found here:
Abralon | Abranet | Autonet | Silver | Microstar


| | |
| --- | --- |
| 1 - 24 | |
| 25 - 49 | |
| 50 - 99 | |
| 100 - 149 | |
| 150+ | |