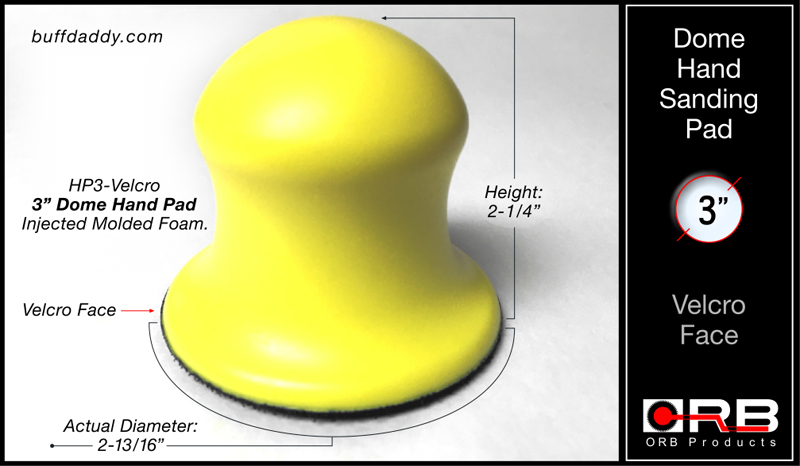 3" Dome-Style Velcro Hand Sanding Pad.
This uniquely shaped sanding block makes sanding or polishing by hand a
breeze
to accomplish. The yellow cushiony material is soft, making it easy to grasp, even when wet. The Velcro face is molded onto the yellow polymer material (not glued), so adhesive failure is highly unlikely.

Includes a Soft & Cushiony Foam Interface Pad
.
When placed onto the sanding pad, the included foam interface pad can be used to increase contourability of all Velcro-style sanding discs. See photos for more information. Learn more about interface pads
here
.

Add an Alternate Foam Interface Pad
.
View the photos (or click the links) to view the various types of available interface pads.
9947
|
9133
|
1033

Add a Yellow Foam Polishing Pad.
Use this pad in conjunction a wide variety of buffing liquids to eliminate fine scratches from all sorts of plastic or painted surfaces. Fits the Dome-Style Hand Sanding Pad perfectly. Should be a staple in your pad arsenal.

Add a Microfiber Cutting Pad.
Use this pad in conjunction with abrasives, compounds, and polishes to smooth or remove heavier scratches & defects. Features short-strand microfiber strings that deliver a rapid cut. A dense injection molded foam interlayer assists in delivering intricate or vigorous hand motion to the microfiber material.



Need sanding discs?
We offer several types of 3" Mirka® Sanding Discs, available in any quantity: Silver | Abralon | Autonet