Rupes 2" Air-Powered Mini Random Orbital Sander/Polisher














Click to enlarge image(s)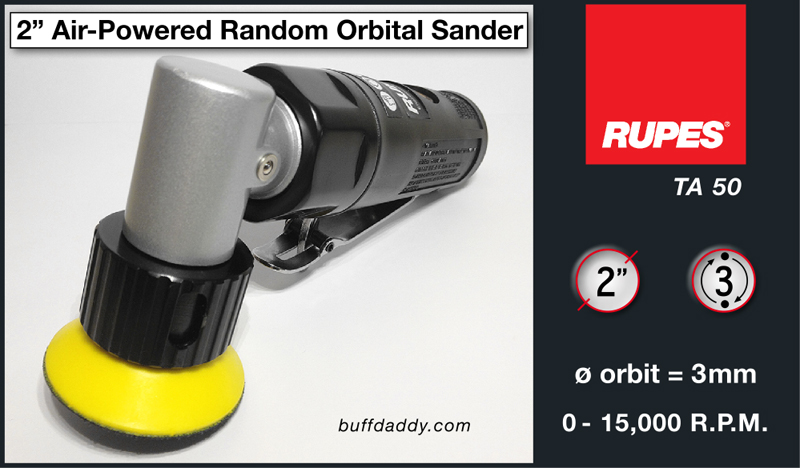 The Rupes TA50 Mini Random Orbital Sander/Polisher
touts a spec sheet reminiscent of an F1 racing engine! Random orbital machines have been around for decades, but this little jewel is small, lightweight, and spins its backing plate lightning-fast... up to 15,000 RPM!

The TA50 dances the Two-step.
The Rupes TA50 creates two separate motions, that combine to deliver fantastic sanding & polishing results. Its backing plate is able to rotate freely and at a random rate because it is bolted into a bearing-mounted spindle. As the motor force-drives the backing plate along a tiny orbital path, dynamic factors (including speed, pressure, friction, bearing load, and orbit size) combine to affect the frequency and direction of backing plate rotation.



The Rupes TA50 is a sander and a polisher.
The TA50 can be used to polish small parts, door pillars, body trim pieces, headlights, engine parts, and more. To minimize absorption of the machine's random orbit action, we recommend that you utilize very thin, lightweight buffing pads. A variety of pads are available here.

Includes a superb inline air regulator.
The TA50 tops out at whopping fifteen-thousand RPM, which is way too much speed for most situations. To adjust speed on-the-fly, a Rupes 9P03.060 In-Line Air Regulator is included with the machine. This regulator requires 1-3/4 turns to fully open or close, making it very easy to dial in the exact amount of air flow for any tool.

To optimize machine speed for sanding and polishing:
To extend the life of discs and pads, begin sanding or polishing by using a low speed setting, then adjust speed up until the disc or pad is gliding along smoothly. The ideal speed setting is one that allows the disc or pad to glide along smoothly, all the while delivering some random rotation of the backing plate. If too little speed is used, the disc or pad will grip the surface, causing the machine to steer your hand in varying directions. In general, anywhere from a half turn to a few turns per second of the plate is sufficient. To gauge backing plate rotation, place a contrasting line or dot onto the edge of the backing plate.



Which sanding discs work best with the Rupes TA50?
Currently, no major manufacturer we know of produces a two-inch diameter sanding disc.
Luckily, it's relatively simple to make them yourself, using a typical arch punch.

Add a spare backing plate. (save 15%)
Better to be safe than sorry! Having a spare backing plate on hand is always smart. The Rupes 9P01.046 2" Backing Plate is a direct replacement for the factory installed unit. This backing plate is not all that common in the USA... so plan ahead! Also available: Mirka 32mm Velcro and Vinyl Backing Plates (see photos for more info.)



Looking for a bigger air-powered random orbital polisher?
Check out the Rupes BigFoot LHR75 3" Mini Random Orbital Polisher.



Looking for an air-powered de-nibbing tool?
Check out the Rupes LD30 30mm Orbital De-Nibber.

Motor specifications:
Pneumatic, power rating not known

Speed settings:
Variable @ 0 R.P.M - 15,000 R.P.M.


Stroke size:
1.5mm offset, creates a 3mm orbit diameter


Machine type:
Random Orbital Polisher aka Dual Action

Action 1:
A bearing-mounted, free-spinning spindle that is placed 1.5mm off-center creates an orbit diameter of 3.0mm. A Velcro-face backing plate is screwed into the spindle.

Action 2:
The backing plate is able to free-spin (referred to as random) in either direction. The rate and velocity of said random rotation is affected by several entities, including (but not limited to) pad-to-paint friction load, applied pressure, and motor speed.


Backing plate: #9P01.046
2" (50mm) 6mm x 1.0mm mounting stud


Spindle mounting hole:
6mm x 1.0mm female thread


Air requirements:
Pressure:
bar 6 / 88 PSI approximate

Consumption:
330 liters / 87GPM / 11.7 CFM

Tool includes:
#9P03.060 In-line Air Regulator
#9P31.038 40" Air Inlet Hose (with fittings)
Dimensions:
Size: 6-5/8" L x 1-1/2" W x 2-3/4"H

Length is 8-1/2" with air regulator installed
Width is 2" with backing plate installed
Height is 3-1/8" with backing plate installed

Weight:
1 lb. 5 oz. approximate