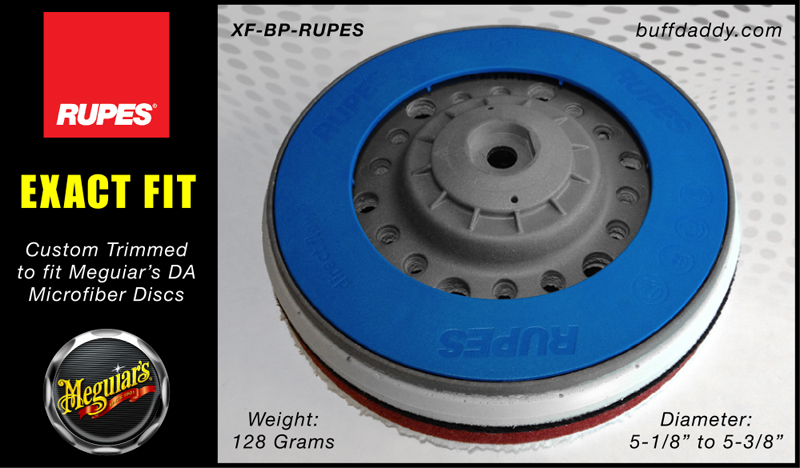 For the experts among us.
I've found that supporting the
Meguiar's DA Microfiber Discs
as close to the edge as possible yields maximum performance. If you are an experienced paint polisher and have mastered control of your random orbital machine, Exact-Fit backing plates may help you increase cutting & finishing performance. These plate are
nearly
an exact fit (within 1/8") for Meguiar's 5" DA Microfiber Discs.
To make Exact-Fit plates, we trim a 6" diameter plate down to size!
Each Exact-Fit plate is knife-cut & sanded to size, using a Rupes® 6-inch diameter backing plate. Choose between the Normal-Hold Velcro (981.320, gray plastic backing), or Extra-Hold Velcro (981.321, blue plastic backing). Actual starting diameter is 5-7/8" (150mm). Overall diameter will vary from plate to plate, as they are modified by hand.
Exact-Fit plates can increase backing plate rotation.
Undersized backing plates do not support microfiber discs all the way to the edge. Since the disc's foam is not compressed to the same degree along the unsupported area of the disc as the foam underneath the backing plate, the edge of the disc can act as a brake of sorts, damping rotational speed as the foam's natural tendency is to remain at maximum height. In addition, lack of support along the edge of the disc can cause it to flutter, further slowing rotational speed.

Exact-Fit plates deliver maximum support.
An Exact-Fit plate supports the disc almost completely, essentially eliminating rotation-robbing tendencies. With so much rotation available, you can put the increased backing plate rotation to use or use a lower speed setting (achieving the same amount of rotation as you had using much higher speeds). Slower speeds = smoother machine motion, lower operating temperatures, and increased user comfort. The choice is yours!

Exact-Fit plates can increase performance, regardless the machine speed.
Shouild you find yourself using maximum machine speed with a goal towards scrubbing away stubborn oxidation & defects, an Exact-Fit plate can help. Conversely, if you're using lower machine speeds to finesse-polish paint surfaces, an Exact-Fit plate is a must-have. In either case, an Exact-Fit plate can help to deliver improved results by equalizing pressure across the entire face of the disc.

Whereas Exact-Fit plates can made a dramatic difference when paired with smaller stroke machines (8mm ø orbit or less), its effects may not be as obvious when using the large-stroke BigFoot machines. Regardless, full support of the entire disc can certainly extend the usable life of a disc, as it eliminates edge-digging of the backing plate into the loop attachment material.

Exact-Fit plates can increase the lifespan of microfiber discs.
Since Exact-Fit plates fully support microfiber discs to their edge, the backing plate's edge will not pinch or cut into the disc's attachment loop and foam materials. This is an especially common problem when "edging" (a mild tilting of the machine) in is used to focus more pressure onto a smaller portion of the disc. By eliminating disc flutter along the edge of the microfiber disc, an Exact-Fit plate can increase its lifespan.

Caution!
Exact-Fit plates require cautious use on concave or complex surfaces, as the backing plate edge is positioned very close to the edge of the Microfiber Disc. Should the edge of backing plate come into contact with paint, plastics, or trim... damage may occur. This is especially true when using large stroke machines (such as Rupes® LHR15ES and LHR21ES BigFoot® Polishers).

Which Exact-Fit Backing Plate is ideal for you?
It's not that difficult to decide: our most popular size plates are 5-1/8" and 5-3/8". The 5-1/8" diameter plate fits a wide variety of buffing pads, while the 5-3/8" diameter plate is ideal if you're using the Meguiar's DA Microfiber discs exclusively. The popularity of the 5-3/8" plate continues, but more and more we're recommending the 5-1/8", simply because it is more versatile.

For use with Meguiar's® 5" DA Microfiber Discs:
If you are using Meguiar's 5" DA Microfiber Discs exclusively, order the 5-3/8" backing plate to achieve maximum cutting and finishing performance (Meguiar's DA Microfiber Discs measure exactly 5-1/2" in diameter). This size will also support a wide variety of 6" foam buffing pads, but pads must be structurally rigid or dense to avoid fluttering during high-speed use.
For use with a variety of 5-inch diameter buffing pads:
If you plan to use a variety of 5-inch diameter buffing pads (including Meguiar's 5" DA Microfiber Discs), we can trim the plate all the way down to the 5-1/8" limit. Even at 5-1/8", the performance is excellent when used with the Meguiar's DA Microfiber Discs. This size works perfectly with: Rupes® 5" (130/150mm) Foam Pads | Meguiar's® 5" DA Foam Discs | Buff and Shine® Microfiber Pads.

Custom-sized Exact-Fit Backing Plates:
We can trim Exact-Fit plates to any diameter between 5-1/8", up to its original diameter of 5-7/8". Although the plate's hard plastic measures 5-1/4" diameter, we angle-cut and sand the white injected molded foam to achieve a 5-1/8" diameter. Should you decide to order a custom-size Exact-Fit Backing Plate, be sure to enter the size in the "Specifics for Custom Plates" box, listed below.
Looking for optimal performance when using the Meguiar's 6" DA Microfiber Discs? You already have it!
Rupes® 6-inch backing plates are ideally sized for use with the DA Microfiber Discs (5-7/8" plate, 6-1/4" disc).
Looking for an Exact-Fit Backing Plate for a machine other than the BigFoot? We've got them right here!
Standard Rupes® backing plates for BigFoot Random Orbital Polishers can be found here: 5" 6"

To view our entire backing plate lineup, visit the Backing Plate Main Page.