Click to enlarge image(s)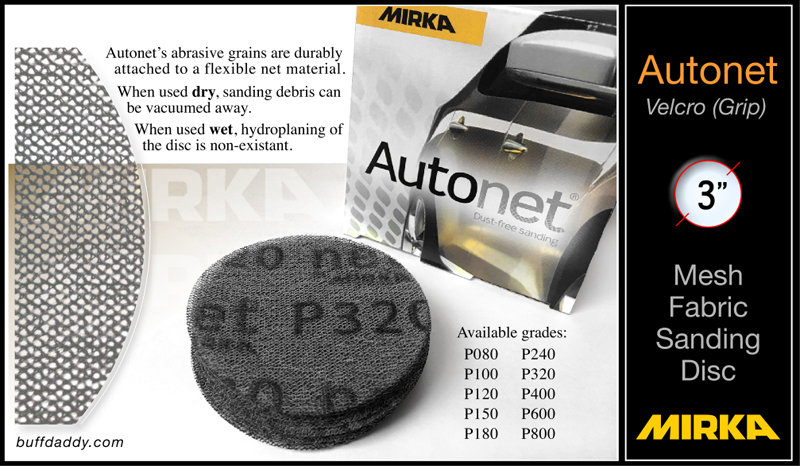 Not less money... a

lot

less money!
Autonet sanding discs were designed specifically for use on automobile surfaces. Of course, they excel when used to sand automotive primers and paint, but they work incredibly well for sanding all types of wood, paint, and plastics (they are popularly used for refinishing plastic headlight lenses).

Available in 3" and 6" diameters.
Disc grades: P80 / P120 / P150 / P180 / P240 / P320 / P400 / P600 / P800

Technical tidbits. These discs feature the same net mesh technology that traditional Abranet discs offer, with some changes aimed towards increasing disc durability. Among other things, Autonet's mesh backing has been beefed up to resist edge tearing, increasing their leveling ability in the process. In addition, the resin that holds the abrasive grains in place has been upgraded to super-tough phenolic resin status, so you can sand longer before the discs wear out.

Note: Autonet discs require the use of a specialized Pad Protector or Interface Pad.
Check out the images above to see close-ups of how the Pad Protector works.

The epitome of a deal. With these improvements comes an interesting price change - Autonet discs actually cost less than the equivalent grade Abranet counterparts! It just doesn't make any sense, right? Stock up now, before the bean counters at Mirka realize what they've done!

More Autonet info: All About Mirka Net Mesh Discs.
Autonet specifications listed here.



Available in a Combo Pack here.
All Combo Packs: Abralon | Abranet | Autonet | Silver | Microstar



Autonet is also available in a 6"version here.



Mirka 3" Velcro Backing Plates can be found here.



Mirka 3" Velcro Interface Pads: 1033 | 9947 | 9133



Mirka 3" Velcro Sanding Discs can be found here:
Abralon | Abranet | Autonet | Silver | Microstar


| | |
| --- | --- |
| 1 - 24 | |
| 25 - 49 | |
| 50 - 99 | |
| 100 - 149 | |
| 150+ | |