Mirka Waterproof Finishing Sheet 21-Piece Combo Pack











Click to enlarge image(s)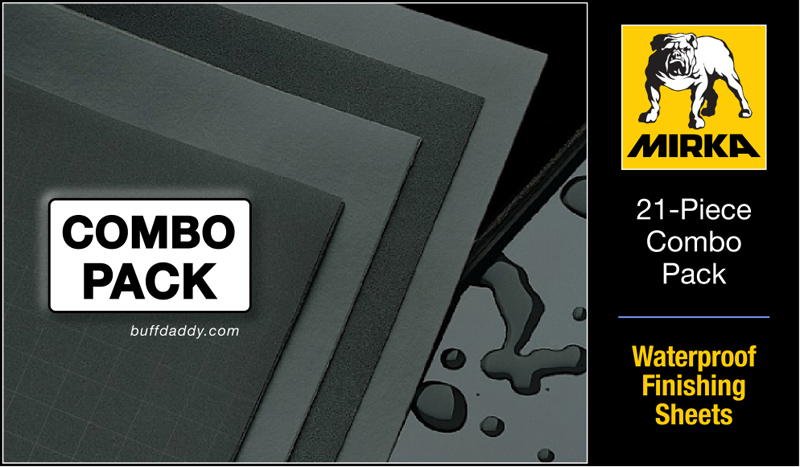 This Combo Pack includes 21 Mirka Waterproof Finishing Sheets. Choose between 18 sanding grades, ranging from P80 to P2500 grit.
Mirka Waterproof Finishing Sheets feature high-grade silicon carbide grains (P80-P360 papers feature aluminum oxide grains). The grains are closely matched in size and placed tightly together, ensuring an even & consistent cut.

The latex-impregnated paper backing material remains flexible for long periods of time and resists cracking, even when folded. The combined resin (adhesive) paired with latex ensures that Waterproof Sheets deliver long lasting performance. Waterproof Sheets will not curl when placed in water, because the latex is applied to the sanding face and backing.

Available in the following grades:
P80, P100, P120, P150, P180, P220, P240, P320, P360,
P400, P500, P600, P800, P1000, P1200, P1500, P2000, P2500

Add a Foam Sanding Pad.
Foam sanding pads helps to evenly distribute applied pressure across the paper. Mirka 121-002 Dual Density Sanding Pads are soft on one side, and firm on the other.

Meguiar's E7200 Sanding Backing Pads are less rigid than their Mirka counterparts. They are commonly used to squeegee wetsanded surfaces dry, speeding up the inspection of a freshly sanded surface. More info: E7200 | 121-002



Add a Unigrit Sanding Block.
Meguiar's Unigrit Sanding Blocks
are designed to remove runs, sags, dirt, and other small isolated paint defects. They are available in P1000, P1500, and P2000 grades. More info: Unigrit Blocks

Add a Denibbing File.
Make short work of sags & runs the old-fashioned way: file them away! The Mirka Denibbing File features a trick magnetically attached 2-sided file (coarse & fine). coarse and fine teeth.
More info: MINF

Add a Shark Blade.


The slicing power of a razor, with the control of a hand planer. The Shark Blade is made of carbide steel, enabling its chamfered edges to remain remarkably sharp & true
. More info: S-BLADE