Mirka Abranet® 3" Interface Pad- 3/8" thick








Click to enlarge image(s)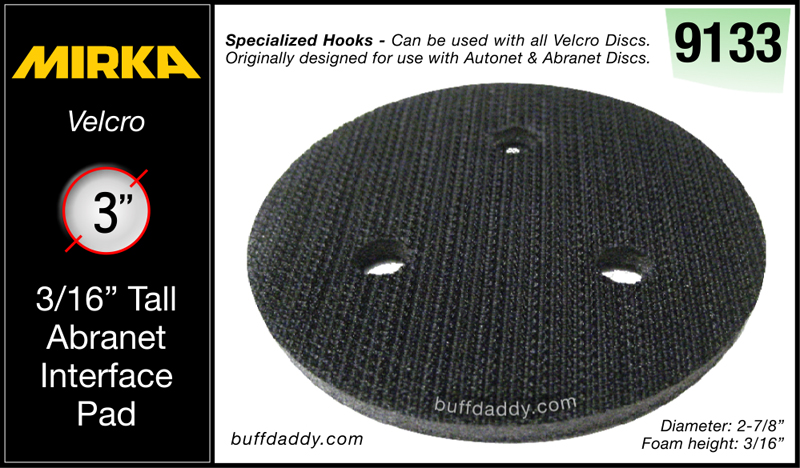 Designed for use with Abranet and Autonet Sanding Discs.

The open mesh design employed in Abranet and Autonet products may allow the hook material of a backing plate to protrude through the mesh. If this occurs, the backing plate hooks will degrade quickly. Even worse, the hook material can cause surface marring! Avoid this problem by installing this Interface Pad. Also available in a 6" version: 9166

The Mirka 9133 Abranet Interface Pad protects the backing plate and sanding surface, all the while increasing adhesion of sanding discs to the backing plate. A soft and pliable foam interlayer (3/16" tall) allows an attached disc to flex and conform to curved or complex shapes. Using a vacuum system for ultra-clean sanding? Three vacuum holes ensure a thorough cleaning of the sanding surface when using net mesh discs.



Add a Dome-Style Hand Sanding Pad. This uniquely shaped block makes sanding by hand a breeze to accomplish. Its yellow cushiony material is soft, making it easy to grasp, even when wet. The Velcro face is molded into place (not glued), so pad failure is unlikely. A soft interface pad is included (interface is not a Mirka product).



Add a Pad Protector. No need for cushioning? Check out the Mirka Pad Protector. This simple device will not only protect the backing plate and surface being sanded, it also increases adhesion of the sanding disc to the backing plate. Since the Pad Protector is only about 1/16" thick, in most cases it will not affect the leveling capability of the disc.



Mirka 3" Velcro Backing Plates can be found here.



Mirka 3" Velcro Interface Pads: 1033 | 9947 | 9133



Mirka 3" Velcro Sanding Discs can be found here:
Abralon | Abranet | Autonet | Silver | Microstar



More Interface Pad info: Interface Pad Facts.